Pakistani actress Mansha Pasha is known to speak her mind on her social media. The actress usually calls out the society on their double standards be it promoting peace or standing with a cause. This time, Mansha Pasha has called out Pakistanis suffering from gora complex after pictures of the Duchess of Cambridge wearing desi outfits have gone viral like wild fire on the internet.
People have been praising the Duchess for honoring the Pakistani culture and calling out actresses in Pakistan for abandoning theirs with their choices of western outfits. Mansha Pasha however believes otherwise,
"As much as im loving seeing Kate Middleton in desi outfits, its getting tiring to read "Pak actresses ko in se kapray pehna seekhna chahiye." Gora complex doesnt mean u start criticising Pakistani actresses P.S. shes a royal and thus has to dress as per protocol," wrote Mansha on her Twitter.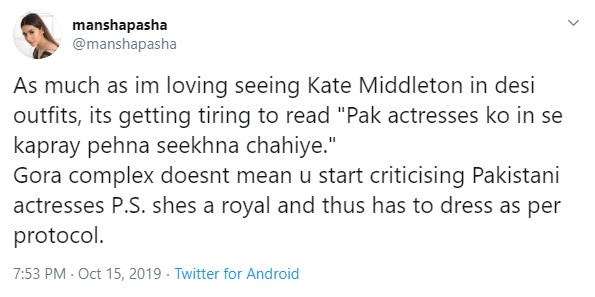 Mansha also pointed out the fact that people in the UK did not feel their Duchess was abandoning their culture while wearing desi outfits in Pakistan but people here believed otherwise when women in the country opted for western outfits of their choice.

While people commented and replied about how it wasn't about wearing westerns and about stripping down in the name of showbiz, Mansha called out the double standards of the society where men weren't ever pointed out if they ever wore western outfits as in jeans and shirts.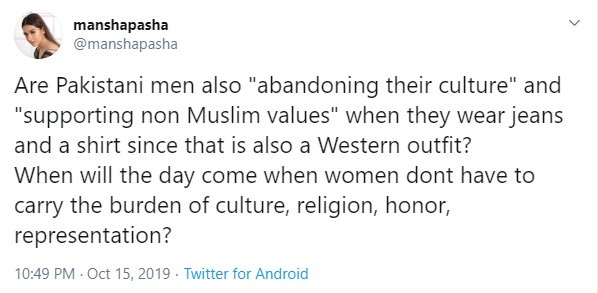 While people persisted it wasn't about wearing jeans or shirts, and stripping in the name of showbiz, Mansha was quick to point out about the shirtless selfies of male actors that got more likes than anything.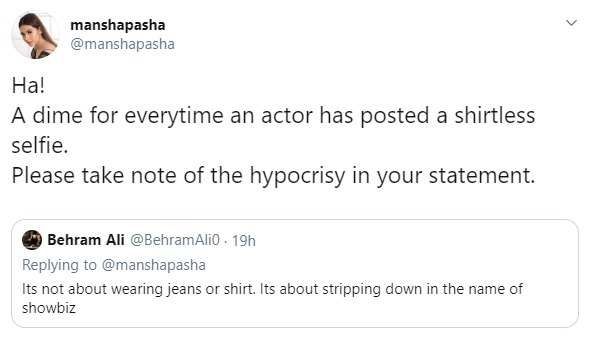 The Twitterati came prepared with all sorts of comments. One user went as far as stating how the UK would criticize if Kate Middleton went on to wear desi outfits in England. "Britishers would feel that she is not following their culture, which is exactly what we feel when you people wear western clothes in Pakistan," wrote the user. To this Mansha again replied how a woman dressing in westerns was always a great deal and how the western dress code i.e. suits for men in the offices was conveniently ignored.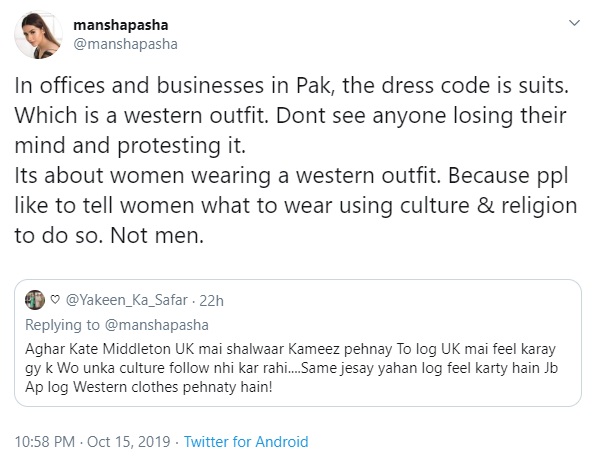 On an ending note, Mansha also found in crucial to mention how it still felt like a burden when women were judged on the basis of what they wore. She called it extremely unfair.